Yavne'el
Jump to navigation
Jump to search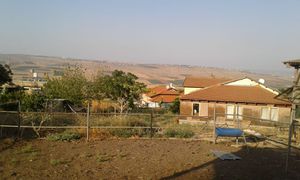 Yavne'el (Hebrew: ####, also spelled Yavniel) is a moshava (rural village) and local council in the northern district of Eretz Yisroel, in the eastern part of the Lower Galil (Galilee).
History
Yavne'el was founded as an agricultural village in 1901.
Population
The population of Yavne'el, including the adjacent Smadar neighborhood, includes about 1800 frum people and 2200 chilonim (irreligious). Yavne'el is not closed off during Shabbos. There are many cars and motorcyclists who drive by frequently.
There are several frum communities in Yavne'el.
One community, which calls itself, "Breslov City," was founded in 1986 by Rabbi Eliezer Shlomo Schick zt"l. Over one hundred families have transformed this part of Yavne'el into a vibrant Breslov community. Many Breslov families are of Sefardic origin. This community, which includes some Anglos, forms about 30% of the total population.
There are a few Lubavitch families.
An English-speaking kehillah of about 20 families has made their home in this scenic town. These families originate from America, South Africa, France, and Canada. Recently many families have been moving in, with more on the way. They are very frum, good, ehrlich people, who look to serve HaShem through nature and a simple life. Eating wholesome organic food, home birthing and homeschooling is common in the  community. All the people in this community are English-speakers or immigrants.
Rabbonim
HaRav Sinai Frankel is the Rav of the Mas'at Binyamin shul for the last 50 years, since the age of eighteen.
Rav Steinhaus from South Africa, is a spiritual guide and mentor to many people.
Rabbi Aryeh Farkash runs a Chabad Center, which does continual events for the locals and gives out numerous hands-on projects before holidays.
Shuls
There are a few Sefardic shuls. The Breslov community has several shuls and a mikvah.
All members of the English-speaking kehillah daven at Mas'at Binyamin. Every Shabbos there is a kiddush for the men after davening with hot food and drinks. It is a very warm atmosphere. Additionally, this large and beautiful shul hosts many events such as siyumim, sheva brachos, Chanukah mesibah, and even one wedding!
Chinuch
The Breslov community includes a kollel, Talmud Torah, girls school, yeshivah ketanah, yeshiva gedolah, and a beis medrash.
There is a Chabad elementary girls school and a preschool.
For the English-speaking community, the teenage boys attend their own yeshivah run by Rav Yechezkel Frankel, and are taught by Reb Yeshaya Blalock. Girls attend the Bais Yaakov (elementary and high school) in Teveria, a 30-minute drive on the school van, and a 45-minute ride by public bus. The school is run by Mrs. Fischer, the daughter of HaGaon Rav Aurbach from Teveria. The school is very nice and accommodating to new immigrants. The teachers are easygoing and really go out of their way to help the girls. It is an out-of-town type of warm small school with one class per grade. Even though the school is generally Hebrew speaking, there is a considerable amount of girls from Yavne'el who do speak fluent English among themselves.
As of now, the school has no programs or tutors to help immigrants, but it is being planned for the future.
There is currently no cheider in Yavne'el for elementary-age boys in the English-speaking kehillah. They attend the cheider run by Mrs. Fischer as well, and are taught by rebbeim. It is a very warm, small cheider with only two classes – first and second grades. More classes will be added every year. The cheider is Hebrew speaking.
Many locals send their post-high school boys to attend yeshivos in other cities, such as Yeshivas Orchos Torah in Beni Brak.
Groups & Programs
The nature of a relatively small community up north fosters a close connection among the children and teenagers, who routinely organize get-togethers and events.
In the Breslov community, there are ongoing separate activities and programs for the men, women, boys and girls.
Every Shabbos afternoon the younger boys have a Tehillim group.
There is a shiur for ladies about once a month by a speaker who comes in from Yerushalayim.
Rabbi Rockhill from Ohr Somayach gives a shiur for the men every Wednesday.
Yavne'el has an active Matnas (community center), with a variety of classes for youths and adults. There are chugim (extra-curricular classes), for boys and girls separately.
Geography & Climate
True to its roots, Yavne'el still retains a small-town agricultural feel while it continues to grow and develop. The village is situated in a valley at the foot of the Yavne'el hills and opposite Mt. Tavor, overlooking the Kinneret. Farming fields stretch out alongside Yavne'el and residents appreciate the beauty in these vistas surrounding their hometown.
Yavne'El experiences extreme seasonal variation in humidity.
The hot season lasts for about four months, from the end of May until October, with an average daily high temperature above 88 degrees Fahrenheit. August is the hottest time of the year with an average of 95 degrees and a low of 73 degrees.
The cool season lasts for about three months, from December until March, with an average daily high temperature below 68 degrees. January is the coldest time of the year with an average of 45 degrees and a high of 65 degrees.
Although winters are very nice and mild in Yavne'el, residents recommend that prospective families take into account the extremely hot weather.
Air-conditioning is highly recommended as is in other areas of the country like Bnei Brak and Tel Aviv.
There are many beautiful natural water places located close by to Yavne'el.
The Ma'ayan is a natural spring of water that flows through the town, closer to the mountains. Lots of men from all over use it as a kosher mikveh taharah.
The Jordan river and the Kinneret are relatively nearby and available for boating, fishing and swimming.
Housing
A large amount of land in Yavne'El is defined as tabu, meaning land registered with the Israel Land Authority as private property. Today in the State of Israel, only 7% of the land is private and 93% is minhal (owned by the state). Purchasers of minhal property are in effect paying for a long term lease for the property. Tabu property generally has more flexible use than minhal property.
The houses in Yavne'el are spread out with a lot of space. Each house is its own unique layout and comes with a front lawn and yard. Some blocks are more clustered than others but all in all there is plenty of room to have lots of privacy and space for children to play freely. As there are no apartment buildings and all homes are topped at two stories, the country feel of the community is preserved.
There are currently plots of land available for sale. A 500-square-meter lot sells for around 370,000 NIS (for the land). Three bedroom homes sell in the range of 1.1-1.6 million NIS.
Rentals are less easy to come by, and are often found by word-of-mouth and networking in this tight knit community. It is also common to buy second hand homes.
Ahuzat Netanel, a block of English speaking families and many zimmers, is the only fully Shomer Shabbos block in the vicinity.
Transportation
A car is recommended for residents of Yavne'el which will make getting around in the spread-out areas so much easier, although intra-city public transportation is also available.
Two bus routes run through the town, one goes from Kfar Kama to Teveria and the other goes from Afula to Teveria. They both stop in Yavne'el.
From Afula and Teveria, there are buses to anywhere in the country. The ride to Teveria by bus takes 40-45 minutes, and by car about 20 minutes.
Employment
Some residents work locally in fields such as agriculture, education, small businesses, or in the local senior residential home located in the Smadar neighborhood. Other residents travel for employment to nearby cities such as Teveria or Afula, or even further to Yokneam Illit's high tech center, which is a 55 minute drive.
Because of its proximity to Teveria and the Kinneret, there are a number of bed and breakfasts in Yavne'el, catering to both local and international tourism. These B&Bs serve as a source of income for some residents. Additionally, there are many private families who own gorgeous tzimmerim (summer houses), who rent them out to the many vacationers and tourists who visit this beautiful town.
Shopping
The few basic stores are spread out throughout the moshava (rural village). This includes five grocery stores, one clothing store, a gas station, a butcher, a fish shop, a Simchah store, and hardware store.
Since the closest major city is Teveria, residents shop and buy all their needs there. Afula, the next closest city, is 25 minutes by car and some residents shop there as well. From groceries to clothing stores and everything in between, these cities have it.
There are also a number of private people who sell health food products such as grass-fed cows' and goats' milk, free-range chicken eggs, freshly ground grains, and homemade creams and tarts.
Medical Services
Leumit and Maccabi have clinics in town.
The Poriah-Padeh Hospital, a well-equipped, high level regional hospital, is a ten minute drive away. Many women from the community give birth there.
Other Services
Most government offices have regional branches in nearby Teveria, which serves the Yavne'El residents.
Community Codes & Standards
Most residents have room to raise animals, livestock, and pets. It depends how much and how many, but it is a possibility and it's just normal to see people horseback riding, walking dogs, hearing roosters crowing and many more animal sights.
Absorption
The closest ulpan is in Tzemach, located just south of Teveria.
Contacts
Yosef Blalock - 052-768-2326 (Long time local)
Shmuel Blalock - 053-3125612 (tzimmers - summer houses)
Devorah Frankel - 058-7319507 (New immigrants)